Interior design trends are constantly changing and can feel impossible to keep up with. If you're interested in making changes in your home this year, you've come to the right place. Below is a list of all the design trends of 2021 that will keep your home looking unique and in-style.
Embracing nature in the home.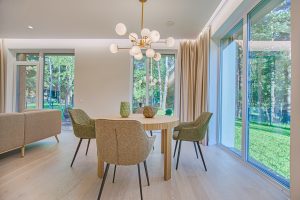 This is one of the most popular interior design trends of 2021. People are looking for more ways to connect with nature because of how much time we're spending at home and inside. This year, you will definitely see a lot of plants and natural light around the house as people are looking to get in touch with the outdoors. You will also see new and unique ways of incorporating nature into the home. For instance, using dried foliage to create accents around living spaces. These dried florals add to this warm colour trend we see in 2021. We also see more natural fabrics being used in home decors, such as organic cotton and linen.
Warmer colour palettes.
This is a design trend we'll be seeing a lot of in 2021. Interior designers are moving away from the colder, darker white and gray colour palette we've seen over the past few years. These warmer colours will help brighten up your space and create an inviting and comforting energy in your home. This colour palette will also come through in furniture pieces and flooring as people are drawn towards warm and sandy wood tones. These new wood tones provide the home with a lovely soft texture while also promoting a connection to nature.
Less open-concept.
After several years of open-concept homes, we're beginning to move away from this home design trend. This change in home design stems from the new working from home lifestyle many people have had to accommodate due to the world's current climate. Now more than ever, we need more separation and quiet spaces to properly focus on work or have meetings online. Interior designers suggest adding a pocket door or french door to create a more private office space. These doors also act as statement entryways, allowing you to add your own creative or personal touches.
Workspaces reimagined.
Now more than ever, the need for a workspace is essential. Flex spaces are becoming more popular in interior design this year. We're seeing many people transform small spaces, such as a closet, into a fully functional workspace. Furniture pieces like small desks or fold-away desks make creating flex spaces very easy. This allows you to create a workspace without taking up too much room. If shifting towards a more closed-concept home isn't available to you at this time, reimagining your workstation is another way you can find the privacy you need to work from home.
Minimalism.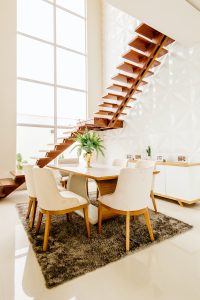 The minimalism trend is continuously growing, and 2021 will be no different. We're spending a lot more time at home surrounded by our belongings and are feeling the urge to clean out our spaces. This ongoing trend is allowing people to create room and space to breathe. Having too many items in the house can be overwhelming for many people. As you begin to change your space this year, focus on keeping the things you truly love and matter to you most. It's important to remember that minimalism isn't about having an empty home but rather a place that brings you peace and happiness.
Cozy spaces.
While this design trend has been around for a while, the past year has truly helped amplify the popularity of cozy spaces. Adding large, soft blankets in the living space is an easy way to create that nice warm and comfortable feeling. Another design trend we'll be seeing a lot of this year is fabrics that feel good. This includes soft furniture pieces that have materials like velvet or faux fur. To create an accent in these spaces, you can also add soft pillows to incorporate those feel-good fabrics.
Earthy tones and natural textures.
This design trend really ties into our desire to connect with nature. In choosing paint colours for the home, we see many warm and soothing earthy tones. These earthy tones are promoting a sense of comfort and tranquillity that makes us feel safe and nurtured. This year, we also see a shift towards more natural textures in rugs and furniture. Interior designers suggest adding rattan and wicker pieces as they add warmth and lightness to home decor. For instance, a rattan chair or basket is the perfect way to add a natural texture to your space. These more natural decor pieces are becoming popular because they are environmentally friendly and sustainable. We'll be seeing a lot of eco-friendly interior designs in future trends.
Granny-Chic Styles.
Also known as the "GrandMillennial" (grandma + Millennial) style, this trend involves adding decor pieces in your home that you likely would have seen in your grandma's living room many years ago. This style involves bright upholstery and the floral wallpaper we all know and love. We'll definitely be seeing a lot more peel and stick wallpaper, which can quickly transform a space with low commitment. The upholstery will act as more of a statement piece to bring a pop of colour to the living space. This is a new and exciting trend in 2021 as we can incorporate vintage elements in the home while giving them a modern twist.
Two-Tone Kitchens.
Another exciting design trend we see this year is two-tone kitchens. We're beginning to part with all-white kitchens by adding warm wooden cabinets. The addition of wood pieces creates a second tone and gives the kitchen more personality and character. Many people are using bold colours in the kitchen for a more dramatic change, such as indigo blue or olive green. We'll also be seeing changes in backsplashes as design trends are moving away from the perfectly shaped subway tiles. Kitchen backsplashes in 2021 are going to have more weathered tiles and irregular shapes. Rustic ceramics will begin to take over the smooth white tiles we've grown used to.
No more accent walls.
Interior designers over the past several years have been using shiplap or bold colours to create accent walls. As we begin to move away from this trend, you may still see shiplap being used and placed vertically rather than its traditional horizontal placement. Setting the shiplap vertically creates more length to the walls and gives the ceilings a higher appearance. There are new ways of introducing texture on the walls that don't involve shiplap. Interior designers suggest using tiles, plants or rattan pieces to give your home a personal touch. We also won't be seeing bold colours as accent walls this year. Instead, we see monochromatic walls with furniture or artwork to add accents and pops of colour.