Having an en suite bathroom in the bedroom has become a popular choice with both homeowners and home buyers. The privacy of an en suite in your bedroom, allows you to create a calming and soothing oasis steps from your bedroom. En suites not only add luxury to your space but will also add value to your home if you choose to sell in the future. Although all homes are different, and space may be different, if you wish to have an en suite there are ways to make that wish become a reality! Working with the space and budget that you have is important. Here at Elviano our experts have compiled some tips and tricks for you when considering building an en suite!
Location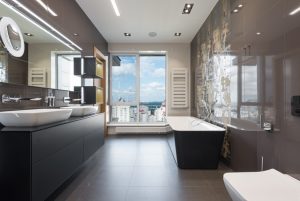 When creating your en suite it is important to consider the space that you have and what possible location and adjustments need to be made to accommodate this new space. If you have a larger sized bedroom, you may be able to simply add a bathroom into the existing space within your bedroom. Another option is to turn an adjacent room or space into an en suite. This method works well if you are not in need of the additional room for other purposes. An additional method is creating a shared en suite bathroom. If there is a lack of space or rooms, you can simply create a shared bathroom between two rooms to save on space. If your bedroom is on the smaller side, but there are no other options for an en suite, you can simply create a smaller en suite with just the essentials.
Planning
When creating your new en suite bathroom, it is important to keep in mind that you will need additional plumbing and wiring for water and light in this room. This being said it is wise to seek professional help in order to get a sense of where the plumbing and wiring can be installed. If you had a very specific vision, but plumbing and wiring are not possible, it is best to plan beforehand and make adjustments as needed.
Layout
Once you have decided the best method to execute your en suite, such as adding walls into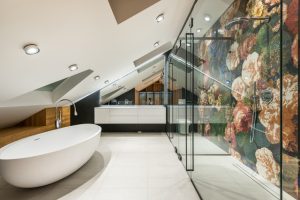 your room, using an existing adjacent room, or creating a shared space, you can then plan your layout. Considering the layout and the space that you have is important. You want your space to be as functional and easy to use as possible. Having an en suite should make the experience easier, not more difficult. For example, if you don't have the space for both a tub and a waterfall shower, perhaps consider a hybrid in order to save space. Being cramped in your space makes it more difficult to use, thus creating an unpleasant and costly space.
Make Your Space Practical
It is important to ensure that your plan for your design and layout is practical. Creating an en suite that you hope to be an oasis but turns out to be overly crowded or not functional, will certainly take away the enjoyment and practicality of your space. If you are having trouble coming up with an efficient and practical plan, contact the professionals at Elviano to help in creating an en suite oasis for you!
Selecting Bathroom Features
Once you have the plan and the layout decided, it will then be easier for you to decide which features and items you would like to have in your space. You may want a free-standing tub, a waterfall shower and a dual sink, however some items may not fit within your bathroom. In this case, when selecting your features consider the space you have and the size of each item in order to fit your space comfortably. It may be wise to make some adjustments or compromises in order to use your space more efficiently. If you really wish to have a free-standing bathtub, consider choosing a waterfall shower with less square footage. Perhaps instead of a dual sink, select one sink that includes more storage underneath for any other products that can be stored away and make the space feel more spacious. Ensure that the space works for you!
An en suite bathroom can truly elevate your home and space. It can create a calming and practical oasis that you may be seeking after a long day. That being said, it is important to consider the many factors when creating this oasis. Take into consideration your space, plan, method and preferred features. If you are considering changes to your home, or you are looking for support in building your new home, contact Elviano. Here at Elviano we are a team of expert and professional architects and designers. We can support you in building your dream home or renovating your current home. We are a full-service contracting business serving the Greater Toronto Area since 2006. Our knowledge and expertise have led us to be a trusted contracting business in our area. If you are interested in building a home or renovating your home contact us at (416) 901 5001 or Toll Free at +1 888-ELVIANO.