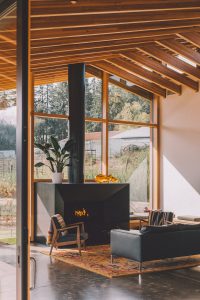 Many interior design trends this year are moving towards creating a cozy atmosphere in the home. People are spending a lot of time at home and are looking to give their space a sense of warmth and comfort. If you're looking for ways to make your home cozy, you've come to the right place. Here are ten ways you can make your home cozy.
Add soft textures to your space.
Nothing feels cozier than a nice, soft, warm blanket.

Adding soft materials in the way of pillows and blankets is an excellent way to create a warm and comforting space. 

A new way of incorporating pillows in your home is floor pillows. This growing trend allows for more seating space and gives your home a warm and welcoming feeling. 

If you want to take it a step further, include soft furniture pieces made of materials like velvet or faux fur. Make sure your couch not only feels soft but is truly comfortable for lounging.

These feel-good fabrics will not only make your space cozier but will also make for beautiful accent pieces.
Use colours to establish a cozy feeling.
The colours you choose to paint your walls or decorate your space can influence how a room feels.

Choosing light and bright colours can easily make any room feel much bigger and open. 

To make your home cozy, use darker colours or tones to create a sense of intimacy. Darker colours make surfaces feel closer than they are, which gives your space a warm and cozy mood.
Play with warm and cool tones.
Warm and cool tones evoke different emotional responses.

Take advantage of this when you're selecting colours for your home.

Warm colours such as red, yellow, and orange are known to create energy and excitement. In contrast, cooler tones such as blue, violet, and green offer a restful and comforting feeling. 

Keep this in mind when decorating your space. If you're looking to create a calming atmosphere, consider using darker and cooler tones when selecting colours.
Lighting is everything.
The type of lighting you have in your room can dramatically change its aura. 

Use warm white lights to create a relaxing and cozy feeling. This type of light is much softer on the eyes and is best for family rooms, living rooms and bedrooms. 

Avoid using cool white lights in places you want to have a cozy atmosphere. Cool white lights are very bright and promote productivity and concentration. Using this type of light will certainly keep you wide awake.

If available to you, add lights with dimming features. Doing so will save your energy costs while giving you total control over the brightness of your space.
Add large area rugs.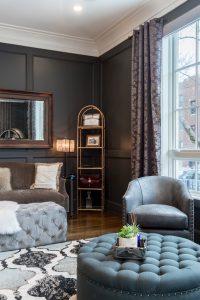 Every room can benefit from a large area rug.

Adding a large area rug, especially on a hardwood floor, is an excellent way to warm up your space.

Area rugs give you the opportunity to showcase your style and personality. They offer a focal point for the eye and act as art for your floor. 

If you're feeling creative, try layering a solid coloured rug with a patterned rug. This will make your space both trendy and comforting.
A touch of nature.
Flowers and greenery not only create a calming energy in your home but are very important for your well-being. 

Plants are known to purify the air we breathe and reduce stress. 

If you're looking for large plants to add to your space, consider a Yucca or Bird of Paradise. These beautiful plants are the perfect way to add a touch of green to your home.

Small succulent plants are also an excellent way to bring nature home with a splash of colour. 

Flowers and plants in your home instantly create a feeling of warmth and welcome. 
Highlight your fireplace.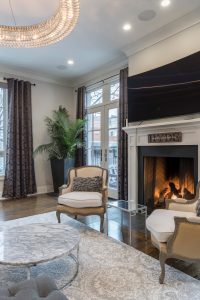 Bring attention to your fireplace by adding pieces of decor to the mantle or its surrounding area.

Use this opportunity to show your personality and style.

Adding decor pieces like a vase or candles will really tie your room together. 

To draw eyes to your fireplace, try adding a large focal piece like an art print or a mirror. 

Another beautiful way to highlight your fireplace is by adding a bookshelf and an accent chair right beside it. Finish off this cozy look with a soft pillow and throw blanket.
Wood pieces add warmth.
Having wooden elements in your home immediately creates a sense of warmth. 

Try out some wooden flooring, shelves, or furniture to give your home a lovely, cozy feel. 

You can also add accent pieces made of wood, which will provide more texture in your space — for instance, wooden bowls or trays.

Many designers suggest blanket ladders to make your living space cozy. These make for beautiful wooden pieces that invite your guests to grab a blanket and cozy up anytime. 
Fresh scents and fragrances go a long way.
Having a good-smelling home will make you never want to leave.

Use candles or wax melts to give your home a fresh smell. Another popular way of adding fragrance to your home is by using an essential oil diffuser. 

Diffusers are great for adding a bit of moisture to the air with a fresh and natural scent. They also make for beautiful decorative pieces. 

Try out different scents for each season. A gentle cinnamon smell in the winter will leave your home feeling festive and cozy.
Decorate with light fixtures.
Finish off your living space with lamps, string lights, or candles.

Light fixtures allow you to highlight certain features in your home. 

Use lampshades made of soft materials like linen to soften the light in the room. 

Large floor lamps also make for a beautiful decorative piece that provides just the right amount of light.