When you think of your home and your dream home, your basement may not cross your mind. In fact, many people neglect their basements, including their basement stairs. Keep in mind that your basement is a place that can hold a lot of moisture. Over time, your basements stairs may develop mold and rot. Not only this, but your basement stairs may be an eye sore and could use a remodel. If you are seeking to upscale your basement, don't neglect your basement stairs. Here at Elviano we have compiled some information, tips and tricks for remodelling your stairs!
Get rid of old and broken stairs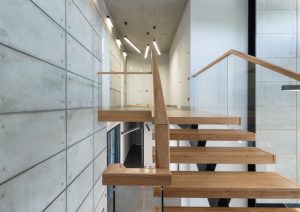 If your basement stairs have seen their days, it's time for a fresh start. Cracks, holes and rotten wood are signs that it is time to put in some new stairs. If you are weary of doing this project on your own, we recommend hiring professionals to do it for you. Keep yourself and your family safe by making sure that it is done properly by the professionals.
Sand and Paint Your Stairs
Tired of the colour of your stairs? Is the finish or paint not to your liking and chipping away? Liven up your stairs by adding a fresh coat of paint! First, sand down your stairs so you have a clean and smooth surface to work with. Then, decide if you would like to paint or varnish your stairs. There are so many colours of paint and different stains to choose from, you will certainly find a perfect match for your style. This simple method is a great way to refresh your basement.
Add a Carpet Runner
A carpet runner is a great choice to add to your basement stairs. They are usually inexpensive and don't require too much fuss as they simply lay over your stairs. Make sure you secure it well to your stairs to avoid any accidents. Carpet runners can add a pop of colour or a cozy feeling to your basement. Whichever route you decide to go, carpet runners can really add a little something to your basement stairs.
Change up the Bannister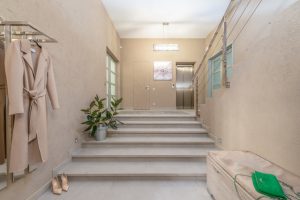 When you think of changing up your basement, you may not consider changing the banister. Changing the stair bannister can really change up the look of your stairs. Some banisters can add an extra touch of style no matter your preference. You may choose a bannister that makes your home look more rustic, modern, edgy, etc. Whatever your taste you can find a bannister to fit it. If you're seeking a more open concept vibe, consider removing the bannister completely and going for some glass paneling. This way you have the safety of paneling, but an open concept feels.
Try a Floating Staircase
If you are seeking a sleek, open concept and modern design for your home, then a floating staircase is a great option. Floating staircases do not have risers, which leaves an empty space under the stirs. This makes the stairs appear as if they are floating. This is a great option for a modern look, as well as for a little extra space in your basement. A floating staircase may not be a project you wish to do yourself. Contact the professionals at Elviano to help you design and safely build your floating staircase.
Install Lights
A typical basement tends to lack natural light. This may cause your basement to appear dark and a bit dingy. Elevate your basement by adding lighting to your stairs. There are many different types of lighting to choose from. You can select light strips, pothole lights as well as under-glow lighting. These lights can be added to the sides of your stairs, under the banister, or even under each step. Not only does it help to brighten up your space, it also adds a touch of glamour.
Call the professionals
If you're not sure where to start or what to do to elevate your basement stairs, call the professionals. Professional designers and builders can create plans and designs that fit your space and your taste. Contact us at Elviano to create and elevate your basement stairs!
Many homeowners have basements, but most neglect to utilize this space to make a beautiful living area. Instead of neglecting your basement, create a beautiful oasis that fits your personal style! If you are considering changes to your home, or you are looking for support in building your new home, contact Elviano. Here at Elviano, we are a team of expert and professional architects and designers. We can support you in building your dream home or renovating your current home. We are a full-service contracting business serving the Greater Toronto Area since 2006. Our knowledge and expertise have led us to be a trusted contracting business in our area. If you are interested in building a home or renovating your home contact us at (416) 901 5001 or Toll Free at +1 888-ELVIANO.