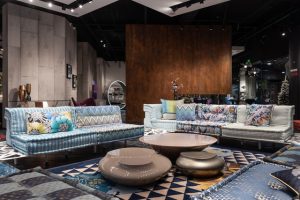 If you feel as though your home may be lacking in terms of extravagance and elegance, you may be considering different ways to remodel and renovate. Homes that provide a sense of elegance often have high ceilings. High ceilings can really open up your home and make it seem more spacious. You may be thinking that creating high ceilings is impossible, however, that may not be the case. Depending on your case and your home it could be possible. Keep in mind that raising the height of your ceilings may not be impossible, but it could be difficult without professional assistance. There are many different options in order to increase ceiling height. If you are curious on how to increase ceiling height, continue reading!
Tray Ceiling
A tray ceiling is an option that may be slightly simpler than others when looking to increase ceiling height. In this method, the perimeter of the ceiling remains in its original place. The remaining center of the ceiling can be raised several inches. Depending on the space in your attic, will depend on how high you can increase this center portion of the ceiling. When considering this option, you also need to consider that you will need new drywall, paint, framing, crown molding and possible electrical work.
Vaulted Ceiling
A vaulted ceiling can really create an impressive and eye-catching look to your home. A vaulted ceiling has a self-supporting arch, creating a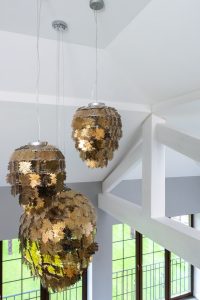 high and extravagant focal point. This method works by pinpointing the highest point in your attic and using this height at the new highest point in your space. The beams come from up the wall and extend upwards into the center of the ceiling. In order for this method to work for your home, the space in your attic will be utilized. Additional beams and other supports will be added in order to create structural integrity. Vaulted ceilings can truly open up your space and create a very high ceiling.
Coffered Ceiling
Similar to the tray ceiling, the perimeter of the ceiling remains where it is. However, the center of the ceiling is elevated by utilizing the space in the attic. Coffered ceilings then utilize panels in order to create a grid appearance on the ceiling. Although usually coffered ceilings create a square looking grid, there is room for flexibility in terms of the style of grid you would like to select for your coffered ceiling. You can go the classic route with a square grid, or a rectangular grid and even an octagon style grid. Although this style may not create as extravagantly high of a ceiling as the other models, it certainly is eye-catching. This style can really create extravagance in its own way with its creativity and detail.
Things to Consider
If you are looking to elevate your home's look by increasing your ceiling height, there are some things to consider.
Budget: Firstly, plan out your budget. Depending on how big your budget is, you may want to consider what method you'd like to use to elevate your ceiling. Some of the methods are more expensive than others.
Time: Another thing to consider is time. A method like vaulting the ceiling could be more time consuming than a tray ceiling. It is important you make sure that you are allotting enough time to your renovation.
Professional Help: Elevating your ceiling is not a simple task and you might not be able to accomplish on your own. Consider hiring professional help. Experts with knowledge and experience can assess your home and provide the best insight in order to accomplish the job.
Attic Space: One last thing to think about before going forward with your renovation, is to consider your current home's layout. Consider if you have the appropriate space in your attic in order to go through with elevating your ceiling. So, before you jump ahead on starting your renovation, make sure you are taking the appropriate steps.
You may feel as though you have outgrown your current home and are looking to change things up. Instead of moving and for fitting your neighbourhood and community, consider renovating. One way to add extravagance to your home is by elevating your ceiling! Here at Elviano, we understand this can be an exciting but daunting task. Our team can support you in building your dream home or renovating your current home. Our expert and professional architects and designers are able to assess your current home and create the perfect style for you. We are a full-service contracting business serving the Greater Toronto Area since 2006. Our knowledge and expertise have led us to be a trusted contracting business in our area. If you are interested in building a home or renovating your home contact us at (416) 901 5001 or Toll Free at +1 888-ELVIANO.